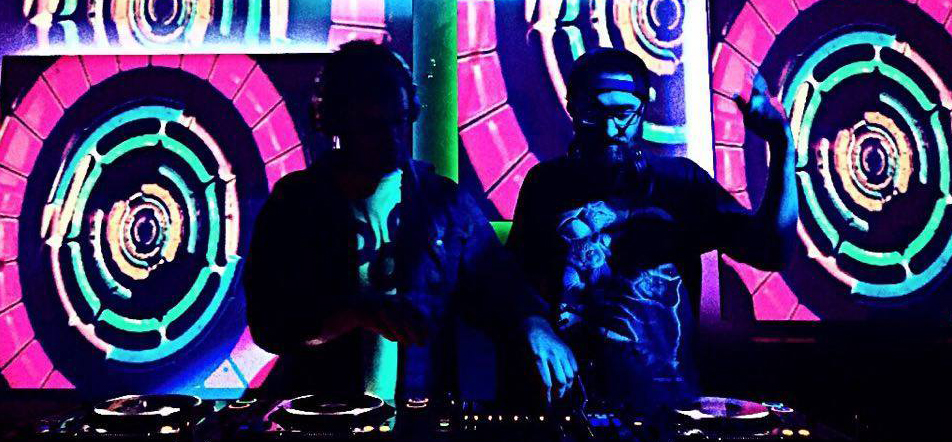 Founded in 2015, Banana Cat is a duo comprised of Kyle Pike and Elan Rochbert and they currently hold a residence at Beandream Productions-presented underground party "Binary". They're the first techno/house artist act that Happps has interviewed, and we couldn't be more excited to be doing an artist profile on them just before for their first Binary show of the year, happening this Friday at Wonder Bar. See below to learn a bit more about the duo and get hyped for their show!
How did you guys get started in DJing?
Elan – When I was 13 I was at a Bar Mitzvah and the DJ was my god-brother. He asked if I could help out for the party. By the end of the party I had everyone dancing and then 6 months later I found myself DJing a middle school dance at Locke Middle School in Billerica, MA. Something like 11 years later I met Kyle at a Binary while he was DJing an opening set and the rest is history.
Kyle – I went to the first Fantasia 360 show at UMass Amherst and had my mind blown! I remember saying to my friends that I think I could do that. I started practicing at home and DJing around Western Massachusetts. I met Mikey Maags at an event and he asked me to do a guest mix for his radio show and then invited me to play my first Binary event where I met Elan.
How has your style changed over the years?
Shortly after we met at Binary we were invited to DJ a set by Mikey Maags on Spectrum Radio. We mixed together some really early G house with house and tech house, had great chemistry together and an awesome response. As we've hung out and played together over the past few years we've definitely shifted away from classic G house and Chicago house towards the darker side of the underground and way more into tech and techno.
Where is your favorite place to throw a show and why? 
So far we haven't really found a favorite venue, but our favorite places to play have to be at after-parties. As soon as we get into a gathering of less than 50 people in a small room we can set up a far more intimate atmosphere, and there is nothing better than the weirdness that comes with 4am sets with friends.
Where is a place you want to perform at but haven't yet?
BIJOU
What are some challenges you've faced being a DJ? 
Oh man, from equipment malfunctions mid-set, to blown fuses in event spaces, to setting off fire alarms, we've taken a lot of things in stride – but I'd have to say the biggest challenge we've faced as DJs is finding our sound and style. We've been really fortunate that we both like the same kinds of music across all of the genres.
Have there been any weird/crazy/interesting stories that have happened while at one of your shows? Care to share?
Not sure how many crazy stories we can share but one funny one that comes to mind was a New Years Eve party we played about two years ago. The venue had a hibachi place upstairs and the whole time the staff was feeding us crab rangoons, fried rice and hibachi meats. We almost didn't make it through our set because we were so full – not to mention the sake!
What music and/or which people have inspired you throughout your time as a DJ?
Kyle – I've played in bands since high school and was all about The Doors, Tool, and Nine Inch Nails. I love Kanye and old school hip-hop. For electronic music I'd probably get most my influences from Eric Prydz, and Gesaffelstein. When Elan and I met we were both really into (and still are to a lesser extent) Claude von Stroke and the Dirtybird sound, but as we've gone darker we've strayed away from it.
Elan – I was classically taught in clarinet and ended up playing Jazz clarinet and bass for some time as well as in various bands throughout middle school and high school. It's really tough for me to say one artist in particular because for so long much of the time I've been a DJ I played music everyone ELSE wanted to hear and never really thought about what I liked. Now I'd have to say Boris, Adam Beyer, Low Steppa and Riva Starr have huge influences on me. The labels and sounds they support have really guided my current sound.
What's something listeners don't know about your creative process when it comes to DJing (and/or producing)?
We almost never know what each other is going to play, it's really fun. We both really get a kick out of surprising the other with awesome new tracks or our favorite old ones. For producing we love using sound clips from our favorite movies or TV shows. We played an edit with "Hold the door!" from Game of Thrones at Therapy in Providence (RIP) and people loved it!
Has there been any moment that you have been really proud of yourself for something you've accomplished together as Banana Cat? What is it? 
Besides becoming Binary Residents – getting together to create TRIBÜ with the rest of the team. TRIBÜ is a bit of a passion project a handful of us started during the summer. It's a strictly techno monthly that has been really successful in mending the void that RISE left when it closed.
You guys are the first techno/house act we've interviewed, what are your thoughts on tech/house music in Boston? Anything you wish could be improved about the scene here?
The scene is definitely growing! If you look at the differences between how vibrant the scene is now in comparison to what it was even 3 years ago, it is staggering! It's really awesome to see so many great events going on every week and month and that the people of Boston are finally getting on board with the underground sound. We really wish there were more techno-friendly venues! It's hard to cultivate the right atmosphere for techno and a lot of the places in which it would work won't give up a regular club night to take a chance on a relative unknown. Also the 2:00 AM closing time is killer for nightlife, many of the events we go to in other cities don't have the headliner until 2:00 AM or even 4:00 AM! It would be really awesome to put together a mini-festival like Time Warp or HYTE in Boston.
Any exciting news/updates you would care to share with readers?
We are really excited about the next few Binarys that are coming up! Friday 2/17 with H2H and Eludis, and March we have Worthy and Lux Groove coming to play. We're also super excited to announce some HUGE techno names that will be playing shortly at TRIBÜ!