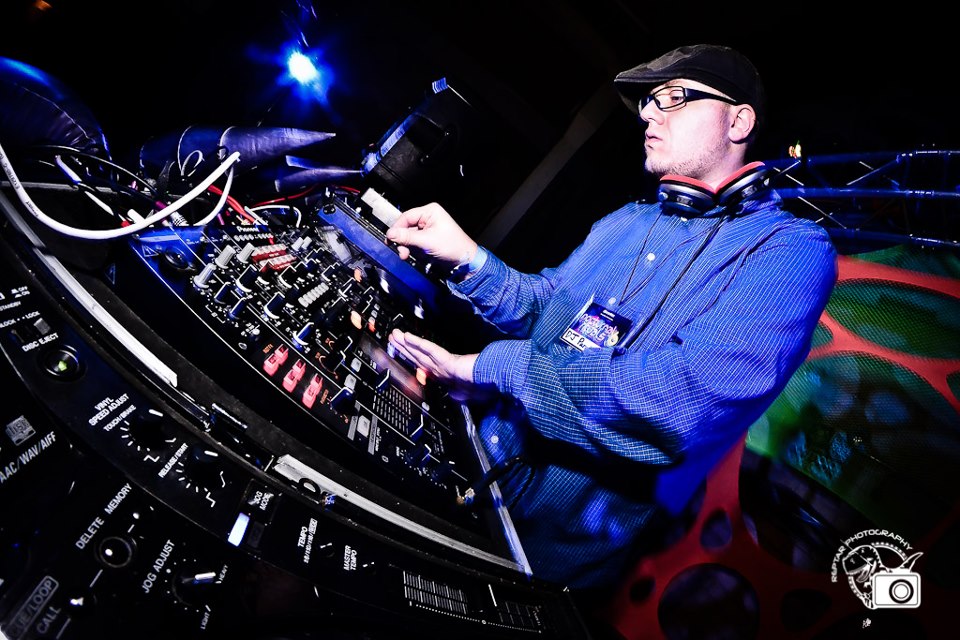 From the East Coast, to Canada, to Europe,
DJ Parallax
has been a growing presence in the rave and club scenes for 17 years and counting. Being affiliated with a number of reputable crews and having played with legends like Todd Edwards and Phat Fingerz, Parallax has been able to experience different circuits and watch the progression of the New England dance scene since he started out in the 90's.
*Photo by Reptar Photography
Genre(s): Speed Garage, UK Garage, Bassline House, 4×4 Bassline
Affiliations: True Crew, Tight Crew, Live Free And Dance, Digitally Imported UK Garage, SoulChampion, Re:magine
Label(s): Filthy Logik, UltraBass, Urban Sprawl, Reloaded
Residency: The Drop (Cambridge, MA)
You've been playing for 17 years. When and where was your first exposure to electronic music, and what inspired you to get started as a DJ?
I have indeed been playing for 17 years. Time flies. My first exposure to electronic music, more specifically dance music, must have been in 1994 when I was in Europe. Listening to the radio in France while touring the countryside, I locked into a purely electronic show and I was enamored. Soon after I started recording loops off the radio and looping samples into my dad's four-track recorder completely unaware of the rave scene. A short time after that I was goaded into going to a party; little did I know at the time it was a rave, but once I was there, I knew I was home.
Have you played or collaborated with any notable artists?
Lots, maybe too many to list, but here's a few: I've played with/opened/closed for Todd Edwards, Phat Fingerz, The Crystal Method, DJ Dan, Doc Martin, Frankie Bones, Charles Feelgood, Angel Alanis, DJ Venom, Myagi, Porter Robinson, Klever, Max Enforcer, Elite Force, Dara, Meat Katie, Lee Coombs, and The Magician,, to name a few. I have collaborated with DJ Kor, FX Logik, Elyk, and Bad Mr Trip.
Which genres were you playing when you started, and how do you think your style has progressed from then to now?
When I first started DJ'ing, I was playing a little of everything. I played some drum and bass and a lot of house and acid techno/trance. It was the 90's. I was playing a lot on WXPL 91.3 FM in Fitchburg [MA] back then and I was playing six hours at a time so I had to mix it up. Eventually I found my way to speed garage and bassline, and I was hooked and basically never looked back. Now I'd categorize my style as 4×4 UK garage, bassline house, and speed garage with a bit of 2-step and breakstep peppered in for good measure.
What came first for you, DJ'ing or producing? Are you more comfortable in the studio or in the booth?
I'm absolutely more comfortable mixing; however, producing came first for me. I come from a musical family and had access to numerous instruments both digital and analog, as well as recording equipment and computers pretty early. Keep an eye out for more produced tracks this year.
For you, what was your hardest challenge when learning how to make music?
My hardest challenge was probably trying to not be ADD when sitting down to make music. I spend a lot of time fucking around with stuff that is 100 percent not going to make it into the finished product half the time, and I still struggle with this.
What have you noticed about the progression of a dance music scene in New England? Back in 1997, how often were there events and how did people find out about them?
In my early "rave" career, it was about physical promo, flyers, and information lines. The Internet was still in it's infancy as far as it's ubiquity. For example, if you were interested in going out in 1998 or 1999, you may have had to call Mission Control or someone's answering machine in New Hampshire to find out where you were going. Sometimes there were massives with 4,000 people in one venue jamming out until 6 a.m. Other times, going out was difficult. You always needed to be prepared to be arrested for trespassing, be ready to lose your admission charge, and/or to drive around aimlessly looking for a map point or some other landmark described on someone's answering machine. I'd say everything has progressed into more legal venues and has become ridiculously common. It was only a five years ago that if you heard a dance or "techno" track in a top 40/hip hop club, it would clear the dance floor. Now every club has bent over and accepted dance music as it's overlord.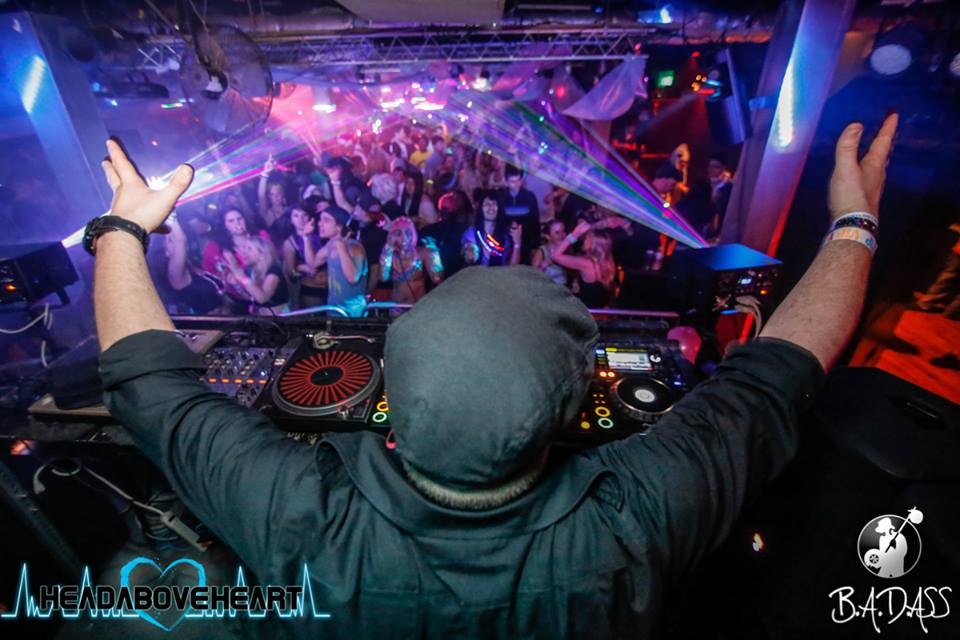 *Photo by HeadaboveHeart
Any opinion on the term "EDM?"
I was using this term a real long time ago. Seriously, look at my MySpace comments back in 2005. However, I think [the term] has morphed into it's own entity. UDM (underground dance music) is where it's at these days.
You've played in the US, Canada, and Europe. How did you break into the Europe circuit? What was the gig?
Back in 2005, I was able to play at Lingards in Bradford, UK which was amazing. I was lucky enough to be offered a gig there by the one and only Phat Fingerz due to me playing speed garage and bassline, which that club was known for. I'm still grateful for that first gig in Europe, playing what I loved to play for a crowd that went out weekly for that sound. I was able to return there a year later and play B2B with the legendary Phat Fingerz. I loved it and I miss that era. I'm mulling over a three or four stop tour over in the UK, now that bassline and speed garage are on an upswing again. We will see.
When you were in Canada and Europe, is there anything you noticed about the crowds in either place you don't see in the crowd here?
Canada is a whole different vibe; it's about the party there, going out and getting loose. I've played all over Canada from Halifax to Vancouver and I can tell you some of the gigs in Canada have been the most fun I've ever had in my life. In Europe, my style isn't a rave / party vibe, but a club vibe. It's a whole different feeling but with the same outcome, except in Europe, [party goers] are getting slightly more dressed to go out due to the club requirements.
What's the craziest thing you have seen in a crowd from the DJ Booth?
Once at RISE, someone started the "oooh, oooh" thing and it went on for like 10 minutes. That was pretty strange. Another time, I turned an MC's microphone off and he was acting like a little kid having a temper tantrum in the middle of the dance floor and then chucked the microphone at me. That was pretty crazy. I've seen people kivver out either over drugs or epilepsy. I've seen fights, drug deals, massive dance circles, random acts of kindness and weirdness, and everything in between. I've witnessed humanity at it's best, strangest, and worst, you could say… all on the dance floor.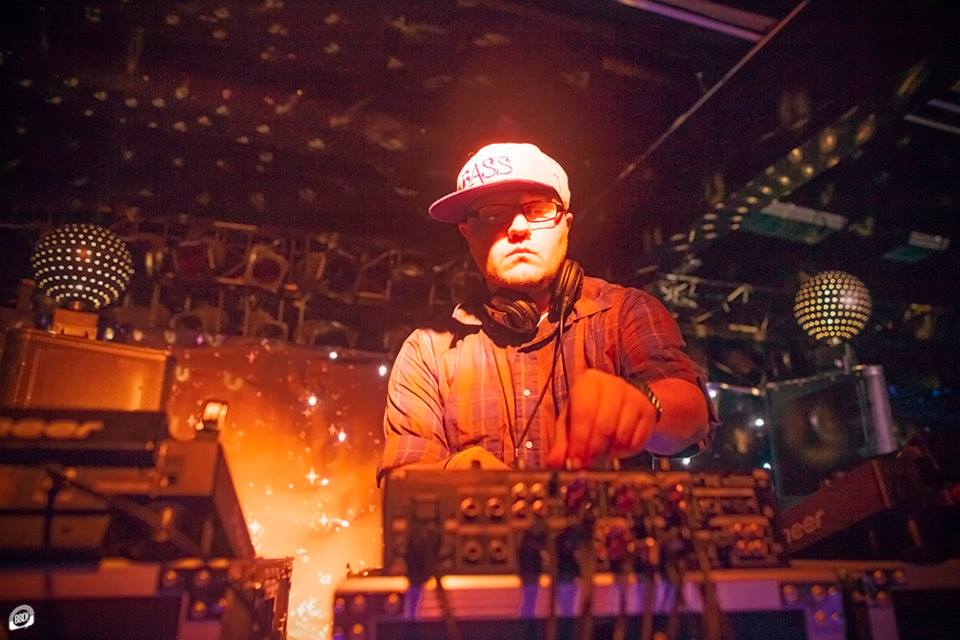 *Photo by Beantown Boogiedown
Any memorable song requests you've gotten?
I'd say a strange one was "Play Creedence" as in Creedence Clearwater Revival.
Which artist do you look up to and why?
Todd Edwards. He's the godfather of UK garage and he's literally been pumping out tracks and remixes for so many years. Even this late into his career, he was able to win a Grammy for production with Daft Punk on Random Access Memories. I'm ecstatic I was able to play with him at RISE a few years back.
What's your dream venue or festival to play?
Although I don't play techno, I'd love to play Movement. That would be an honor.
What is the most amazing place that being a DJ has taken you?
IIn people's daily playlists. I'm still in awe by how many people tell me they listen to my Thump mix series on a daily basis.