Originally from Brazil,
Ju Lee
settled in the US for good in 2006. About three years later, she got into DJ'ing and worked her hobby into a profession. From clubs, to raves, to after-hours spots, Ju Lee is on point when it comes to catering energetic sets to varied crowd familiarity and preference. Check out this interview to find out who helped her learn, what she thinks about the term "EDM", and why she decided to advance her career without a manager.
*Photo by Isisnight.com
Genre(s): Deep house, Tech, Techno, Electro, Progressive house
You're from Brazil. When did you come to the US, and did you get started as a DJ here or there?
I came to the USA in 2002 for the first time, returned to Brazil in 2005, and came back to the USA in 2006. I started DJ'ing here around 2009, and professionally in clubs in 2010.
When and where was your first exposure to electronic music, and what inspired you to get started as a DJ?
I've always loved electronic music. I remember never missing a trance Saturday night radio show when I was around 10 years old. When I was even younger I used to record my favorite music from the radio on cassette tapes; I had so many of them. I never imagined I would become a professional DJ, but looking back it makes senses, as everything in my life has shaped me to this and I know there is much more coming. My dad was a big inspiration. He taught me to play keyboard and so much about music. He used to spin vinyl before I was born but I've never seen him do it. And now, here I am!
Which genre(s) were you playing when you started, and how do you think your style has progressed from then to now?
I started with trance and techno, with psytrance influences. Then came progressive house, electro, tech, and deep house. I listen to a lot different things and play according to the party and crowd. Adding different elements gives character to your sound and style. It feeds creativity and prevents you from falling into the generic sound. It's important to be open to new sounds.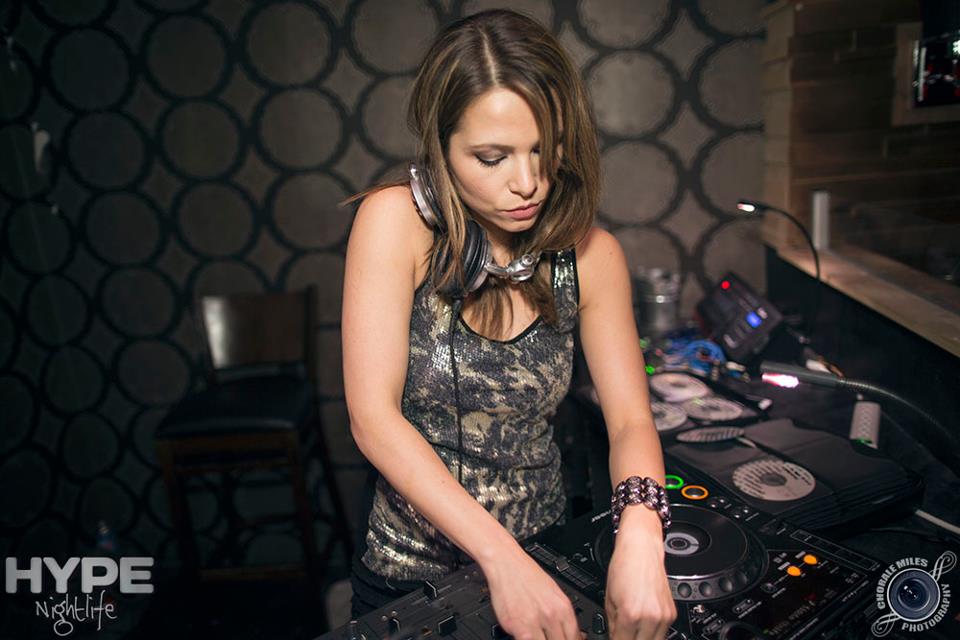 *Photo by Chorale Miles
Any opinion on the term "EDM?"
I hate how the acronym for electronic dance music became one category with a negative reputation to the underground, and is associated with generic noise. What happened to the rest of electronic music? Of course there are amazing artists and tracks out there, but a big chunk of it is simply repetitive noise with no flavor to it. That makes people who don't know electronic music think it's all the same and they are hesitant about it.
Who gave you your first chance playing out to people?
Aaron Fractaltribe. I met him at a party in the woods of Connecticut. When I told him I had DJ equipment but didn't know how to DJ yet, he told me he would teach me everything, that he would feed me music and I just had to practice. We become good friends and spent hours and hours practicing. Then he told me he was throwing a party at the legendary [old] Therapy after-hours in Providence, RI, and that it was time for me to play at a club. It was epic.
At first I saw you play at raves like Tight Crew parties and after-hours at RISE. More recently, I've seen you playing upper scale venues like Cure and Whisky Saigon. How did you introduce the club venues to your sound and get them to see you as their type of DJ?
I had to adapt to their sound and still keep my personality to it. I was also under management, so that opened many doors for me, but having a manager also can limit some opportunities and collaborations with other projects. I'm not under management anymore; I'm very grateful for when I was, but it wasn't working out as a team after certain disagreements.
How do you cater your sets to different crowds? For example, a set at RISE, a set at Tunnel, and a set at Storyville?
I'm a music lover, so I have a diverse variety of music. I feel the crowd and play the moment, which keeps it interesting and challenging for myself as well. I usually know which will be my first and second tracks, and then I go from there. I add some of the latest tracks but also some old goodies.
Do you find it it tough to balance underground and mainstream dance tracks? Do you usually blend the two, or keep them separate?
I love the line between mainstream and underground. Good music is good music. Both sides give me awesome opportunities and it all depends on the crowd and energy of the room. When I play for underground, it's usually strictly underground. But when I play at a commercial club, I can still pull off cool underground tracks, especially in the beginning of the night. Sometimes adding a vocal of a old school or popular track works really well setting the mood for the high energy madness. It's about feeling the moment; if it works, I'll play it.

*Photo by Yoni Asulin
For you, what was your hardest challenge when trying to break into the DJ world?
The market is saturated and the bar has been raised. Being a female DJ has its advantages and disadvantages. Some unprofessional promoters will book female DJs not based on music or talent, but for the sex appeal, which creates a bad stereotype for female DJs. These are the promoters who don't understand the flow of energy or music at all. It's funny when people come up to me impressed, saying, "Oh, you play really good music." Women have different emotions than men, and in a 'male dominated' field, that can be used to advantage in the creative process. But in general, who you know will get you there, but what you know will keep you there.
What's the craziest thing you have seen in a crowd from the DJ Booth?
I've seen a lot of crazy stuff, but to see people crowd surfing and throwing people up in the air during your set is pretty indescribable.
Which artist(s) do you look up to and why?
Oh, there are so many in so many different categories. For example, Dannic is one of them; I love his productions. For tech and techno, one of my friends is blowing up in Brazil, his name is Alok. He is extremely talented and I've learned a lot from him. Of course, Fedde Le Grand, Eric Prydz, Daniel Portman, Victor Ruiz, ZHU, and Finnebassen. When you work with electronic music, it is hard to pick only one artist, as your taste comes from many different ones and it's constantly evolving.
What's your dream venue or festival to play?
I really want to play the main stage at Ultra. I made myself a promise a few years ago I would play that stage. I'm not sure how long it's going to take me, but I will. I also want to play at EDC, Tomorrowland, and Pacha Ibiza. You name it, I want to play everywhere.