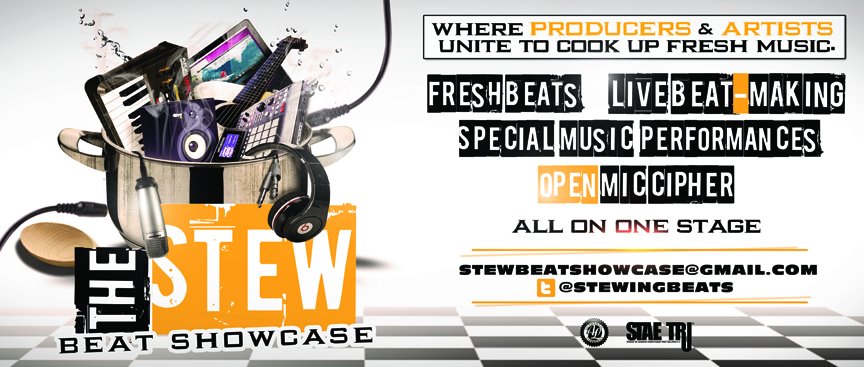 If you're in Boston at any point in time that the Stew Beat Showcase has a beat battle, you must check it out. This Boston-founded music producer beat battle association boasts that it's "Not Your Average Beat Battle!" and with good reason; the organization was founded on principles of creating a unique and truly all-encompassing experience for all who participate, whether as a contestant or as a member in the crowd. Since starting in 2013, The Stew Showcase has strongly maintained a good following and continues to invite curious producers and music-lovers to its events, usually held at Wonder Bar.
Happps highly recommends you check out our words with The Stew below; they have an amazing story to tell and will hopefully convince you to attend one of their events.
1. How did the Stew Beat Showcase start up? What was the inspiration behind it? 
The Stew Beat Showcase started up when two brands, STAE TRU and Authentic Lifestyle, realized there wasn't a platform in their hometown of Boston, MA that focused on producers. Although both brands were hosting their own separate artist showcases at the time, they later discovered that they shared a common love for beat production and it would make sense to collaborate and contribute something new to the scene which would invite a different demographic to the stage.
2. Since its inception in 2013, how do you think the Stew Beat Showcase has changed and developed over the past three years? 
When The Stew first came on the scene it was more of a place for our favorite hand-selected local producers to come-up and display their sound. It was a non-competitive format that was created to bring producers and artists together under one roof to network. As the years progress we later introduced an innovative battle format, a unique judging process, and also curated a different event within our main event, that now gives producers of all-skill-sets a chance to be heard by our audience in attendance .
3. What's a short term goal for the Stew Beat Showcase? Long term?
Our short term goal is to build relationships with interested sponsors so we can continue to contribute "fresh-goods" to the culture as well as our registrants and audiences who support the culture; Especially as we prepare to take our beat battle association on the road to various states across the US in the upcoming year. We would also like to further grow our network of producers so we can offer more to the beat community even if we are not currently in their area. (i.e.: Our Private Producer Group on Facebook – The Stew Beat Club) In the long term, we have some amazing ideas in the works in regards to how to take our showcase to new heights, never-before-seen with any beat battle association, however we cannot disclose those exact details at the moment. However, we do wish to branch out and eventually bring our showcase overseas. Furthermore. we would love to work with industry talent in hopes of creating a bridge between producers and artists as we move forward and maybe convince some known producers to partake in our showcase as well. In doing so, we aim to make The Stew a household name in beat battles and entertainment.
4. What is one story or occurrence during the Stew Beat Showcase event that will stay in your memory forever? 
Our #Openkitchen segment wields some of the best stories to date. One in particular that stands out was when we had a quiet unknown rookie-
producer who spoke little English, play some beats he made for our audience. He had only started producing 4-6 months prior to the event and after a mediocre set, the crowd and the beat community in attendance embraced him while sharing their thoughts on his sound. A few months down the road he returned to the Stew's first battle installment and surprised EVERYONE. Our judges even asked "Who are you and what did you do with the old you?" in amazement. You could not only hear it in his beats, but you could see it in his posture, this young producer was now confident and only getting started. He later landed one of the top scores at our event and placed as a finalist in our SGFS2 grand finale with ease. He is currently a full time producer, now traveling city to city putting in work. Shout outs to Eddie Random and his production team, the SUICIDE SQUAD.
5. Your showcase emphasizes being open to people of all skill sets; how does this come together at an actual Stew Beats event?
The Stew Beat Showcase literally has a place for everyone who creates beats and wishes to be heard regardless of your skill-set. Its a beautiful place to build with rookie and veteran producers / engineers. Parts of our show allows new beat makers to be heard and not judged. Meanwhile, our main-event challenges competitive producers creatively, despite their previous level of comfort with composing. We make sure that our challenges present an even-playing field for those who wish to compete regardless of what genre you typically produce, or if you're a person who samples, or likes creating from scratch. There has actually been few instances where amazing producers were out-performed by a beginner on our panel. So everyone stands has a fighting chance.
6. What can someone who has never been to a beat battle showcase expect to see, hear, and feel? 
If you have never been to The Stew, you can expect to see one-of-a-kind challenges that are entertaining to both the producers and onlookers. You can expect to hear an eclectic mash-up of music, provided by producers in attendance, live performances, and our amazing turntablist scratching and juggling all night long. Lastly, you might feel upset, that it took you this long to find out about our event.
7. On your "about" page on the Stew Beats website, you write that the showcase "chooses to place more emphasis on the creative side of music production through its clever challenges and untraditional beat battle structure". Can you explain how Stew Beats is "untraditional" with its structure? 
We've done so much to stay as unique as possible. An example would be the options we've created for producers who want to get on our competitive panel but failed to register in advance. They can come through the night of the show, sign up for our battle-royal-styled #OPENKITCHEN segment and attempt to rock the crowd for a majority vote, by the crowd. Winning the crowd vote could result in them taking a seat on our panel. Another example would be how we have rounds where producers, who have never met before, are teamed up to created something on the spot that will later be under review of our judges. Rounds like that have never been seen before, and actually create partnerships between producers, well after our doors close. And thats only the tip of the iceberg with what we have going on at The Stew.
You can check out more about The Stew on their website, Facebook, Twitter. Also follow them on Youtube and Instagram to see what a Stew event looks like.